I could really give a rat's ass about soccer.
I was in Spain
when they won the EuroCup in 2008, and I cheered them on to victory in the World Cup in 2010, and both times my cheering was
hindered
heightened by the number of big, big beers I had consumed. However, I'd like to thank soccer for encouraging the number one goal on my bucket list - to travel to every single continent.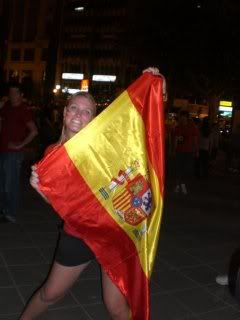 I'm not really sure when this became a lifelong dream of mine, but I've made good on it in the 24.5 years I've been around. I figure if it took me that long to get to 5/7, surely I can hit up 2 more before my time on earth is up, right?
Part of the problem with my world domination goal is that I really have vague recollection of the time I spent on the Asian continent, and the time I spent in South America barely qualifies. I think we were in Colombia for a grand total of 4 hours, seriously, and even though I spent 2 weeks being lusted after for my gorgeous blue eyes and
naturally blonde hair
, that was many moons ago. Too many moons ago, really. So I've decided that those kinda sorta but not really don't count. I mean, they do count, but I really really
really
wanna go back. Bucket list or not.
So now, I have soccer to thank because they have decided that the 2014 World Cup will be in Brazil. Be still my heart - South American AND Portuguese? When can I buy my plane ticket? In case you didn't know, Portugal is my favorite country in Europe, although followed closely by Spain & Germany, and who am I kidding...I love them all. But really, Katie = Portugal's #1 fan.
And 2022 in Qatar? Hello, it's really close to Saudi Arabia (my mom's favorite place) and it's technically an Asian country. I could probably even knock off 2 continents in one trip if I really wanted to. Spending a day in Morocco doesn't really count for Africa now that I think about it, so obviously I need to go back and invest some quality time.
Now, the bigger question is who's paying and who's coming with me? I've got Australia covered (hellooooo honeymoon), but I really need a travel companion for South America & Africa/Asia. I promise I'm a great traveler, and I don't complain and I am pretty dang go with the flow!
Some might suggest that Traveling Katie > Katie At Home. But that might just be a suggestion :)
¡Que Viva España! Força Portugal!