Today I went sofa shopping. We've had the same couches in our apartment since I moved in almost two years ago and my roommate is eventually moving out because she is getting HITCHED (wooohooo!). I figured it was time for me to start my big girl life, too, starting with a sofa. We all have our quirks, ok? If owning a sofa will make me feel like a grown-up, then so be it.
Having a garden
also makes me feel grown up, so there!
Anyway, I decided today that it was the day to start couch shopping. My first stop was Thomasville. I had done some researching online and knew that Thomasville had a sofa most similar to my
beloved Dr. Pitt Sectional
. I popped into the store and found
this
: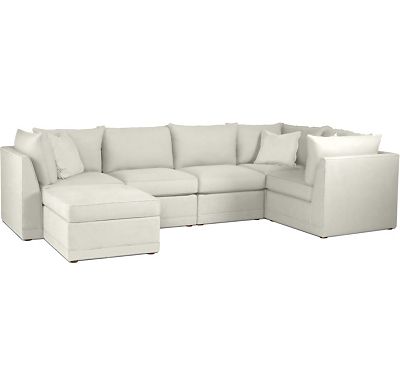 Thomasville Canyon Sectional
The problem? For what I want, it's about $2500. As I expressed on Twitter, I promised myself I would not buy a $3000 sofa. Could I afford it? Yes. Would it be a wise way to spend $3k? Um, no. So I ooh-ed and ahh-ed and laid on the couch and then I moved on. One day, Canyon Sectional, you will be mine. Unless I buy the Dr. Pitt instead.
Next stop,
American Signature Furniture
. I've helped several friends with furniture shopping, and all of them have ended up buying from ASF. I really like the store and I went in with high expectations. After a questionable experience with a sales rep (she was nice, but didn't really understand my priorities and made some unnecessary comments), I walked out with 3 potential options.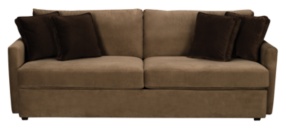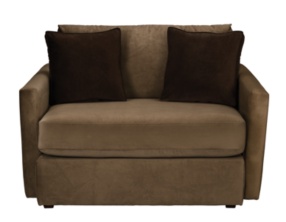 I walked in being 100% set on a sectional, but I didn't fall in love with any upon first glance. I did really love these 2 pieces though. The picture doesn't do it as much justice, but both of these pieces are REALLY deep. I am 5'9" and when I sat with my back against the sofa, my feet didn't touch the floor. Plus, it was long enough for me to lay down without being uncomfortable! The total price for both of those pieces would be about $1300 including delivery. But, I knew I really wanted a sectional, so I went back for a second look.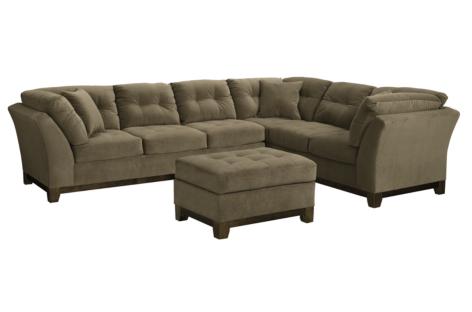 American Signature Furniture Solace Sectional

This
was my 2nd find, and I really liked it. It's a sectional, it's microfiber, and it's comfortable! I walked away from this sofa initially because I didn't like that it was lower to the ground (which is my dad's #1 complaint about my current sofa situation) but upon further inspection, it really wasn't any lower than any of the other sofas I sat on. And I did a lot of sitting. The Solace would be about $1500.
The third and final sofa I sat on was the
Soho Cobblestone sectional
. It's a little smaller than the Solace, and it's less expensive. Grand total would be $1200 for this one. I really like the chaise lounge on this one. It only comes in one color that I would actually consider. Sorry, red is not for couches. The color works for me though. I guess this is probably my 3rd choice.
In fact, as I'm typing this, I really think I like the Solace sofa. I want to take someone else with me to look and just get a second opinion, and I want my mom to run into the store and look at the couches and let me know what she thinks, but I think I have a top choice. Now I have to measure my living room and figure out if any of these things will actually fit!
Stay tuned for Katie's Becoming A Grown-Up Part 3. I don't know what the topic is yet, but I'm sure I'll do something grown up eventually and hopefully live to blog about it. For now, I'm going to go drink wine with my
Sunday Funday
friends and play card games, because that's what grown-ups do.