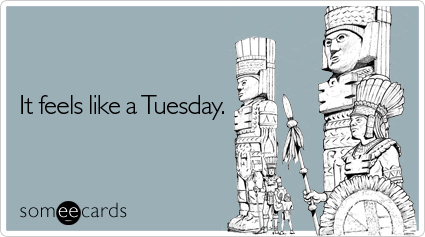 Tuesdays are without a doubt the worst days of the week.
1. My friend is telling me about how his feet smell and he took his shoes off and therefore his office smells.
2. I work on the 38th floor of my building, and all I can see out the windows right now is fog. Eerie.
3. I went to
my first tennis practice
last night and somehow managed to pull a muscle in my gluteous maximus in the first 10 minutes.
5. It's 2:55 and I haven't gotten an email since 2:39. I automatically assume our server is down, or my email is broken, because no one leaves me alone for that long.
6. I have a 6:00 meeting tonight that will probably last until 10pm, and then we'll just repeat it on Thursday.
7. I have to pack for a weekend out of town with a bunch of teenagers because I won't have any other time this week.
See #6
. Help me, Rhonda.
8. I'm ending on a positive...we ordered some really awesome Thai food for lunch, but now I'm full and sleepy and I can't see anything outside my windows.
Any other Tuesday haters in the house?